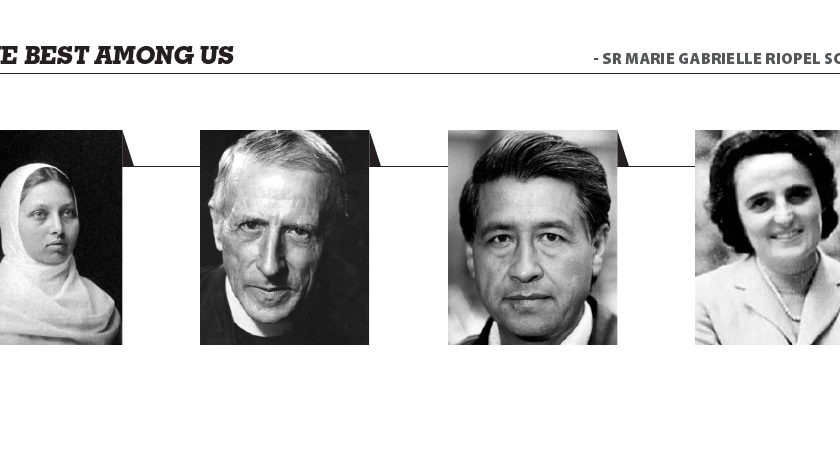 PANDITA RAMABAI SARASVATI (1858-1922) – DIED 5 APRIL 
Pandita Ramabai Sarasvati was an Indian woman, born to a Brahmin father, Anant Shastri, and his second wife, Lakshmibai. Her father, a learned Sanskrit scholar, taught Puranas in the temples for a livelihood.
Ramabai's family became ostracised from the moment her father started teaching Sanskrit to her mother. From then on the family fell into poverty and took to the road as religious itinerants. When Pandita was sixteen, her parents and sister died of starvation. Only she and her brother Srinivas were left.
Both of them decided to carry on their father's teaching work. They continued travelling all over India. Her passion for reading never faltered.
Ramabai's fame as a lecturer reached Calcutta, where she was invited to speak.  At the age of twenty, she became the first woman to receive the title of pandita (female pundit or Sanskrit scholar) and Sarasvati from Calcutta University.
After the death of Srinivas, in 1880, Ramabai married a Bengali lawyer, Bipin Behari Medhvi. The marriage both inter-caste and inter-regional upset society's traditions. The couple had a daughter: Manorama.
Among her husband's books Ramabai found the 'Gospel according to St Luke.' She was fascinated by what she read. She wanted to know more about Christ, but met her husband's resistance and gave up.
After Medhvi's death, in 1882, Ramabai moved to Pune. There she founded the Arya Mahila Samaj (Arya Women's Society) to promote women's education and uproot the practice of child marriage.
From then on she travelled widely in India and abroad to bring forth women's emancipation through education, fairer laws and attitudes.
Her speeches and addresses on the importance of women's education had deep reach and impact. One of them even nreached Queen Victoria and incited the starting of the Women's Medical Movement by Lady Dufferin.
While in England, Ramabai experienced the love and compassion of Jesus Christ. She and her daughter became Christian.
Ramabai travelled quite extensively. Her genuine compassion towards the plight of widows, girl-brides and uneducated women mobilized women from all over the world.
In 1888, Ramabai came back to India. She started the "Sharda Sadan" (House of knowledge) for girls.
Pandita Ramabai kept on her work and care for girls and women till she passed away on 5th April, 1922.
——————————————————————————————————————————————————————————
PIERRE TEILHARD DE CHARDIN (1881-1955) – DIED 10 APRIL
Pierre Teilhard de Chardin was a French Jesuit. As a philosopher and palaeontologist, he strove to understand the links between science and faith.
He was the fourth of eleven children. From his father, Emmanuel, an amateur naturalist, Pierre learnt the observation of nature. From his mother, Berthe, he learnt spirituality.
As he grew, Teilhard's interest in the world of nature drew him to study geology and natural sciences.
After he entered the Jesuits, his spiritual director helped him understand that he could give glory to God through following his intellectual interests.
In 1914, as the World War I started, Pierre was enlisted into the French army though he was already an ordained priest.
The slaughter and crippling of millions of men shook Teilhard's faith. However, he could see, even in the midst of human tragedy, a sense of communion with the world and communion with God united in the crucified Christ.
He later wrote: "…the war was a meeting … with the Absolute."
He was appointed to teach at the University in Paris, and later asked not to do so. Instead, he was "exiled" to China, where he did splendid studies in paleontology, and was part of a team that discovered the famous fossil, Synanthropus Pekinensis.
Several of his writings, combing science and spirituality in creative ways, were misunderstood by church authorities. He was not allowed to publish them. When friends outside the church published them, it made him and his ideas very well known. His ideas have been cited by Pope Francis in the 2015 encyclical, Laudato si'.
Teilhard's unique relationship to both paleontology and Catholicism allowed him to develop a highly progressive, cosmic theology which took into account his evolutionary studies. Teilhard recognized the importance of bringing the Church into the modern world. He was both a scientist of calibre and a mystic—but very few within church circles understood him.
——————————————————————————————————————————————————————————
CÉSAR  ESTRADA CHÁVEZ (1927-1993) – DIED 23 APRIL 1993
César Chávez was an American labour leader and civil rights activist.
He was born to a Mexican-American family of six children. During the Great Depression, César's family lost their land and all they had. To survive, they became farm workers.
In 1942, Chavez quit school and started working full time as a migrant farmer so that his mother would not have to slave in the fields.
In 1946, he joined the United States Navy, hoping it would give him the opportunity to learn skills for his future. However, the military experience turned out to be "the two worst years of his life."
He married, and became the father of eight children.
Chavez worked in the fields until 1952. He then became an organizer for the Community Service Organization (CSO). He became widely known later for his struggle to procure a just wage for farm workers. He undertook several "spiritual fasts," seeing this as "a personal spiritual transformation." These fasts were influenced by the Catholic tradition of penance and by Mahatma Gandhi's fasts and emphasis of nonviolence.
In 1988, Chavez attempted his last fast to protest the exposure of farm workers to pesticides. He fasted for thirty-five days before being convinced by others to start eating again. He had lost fifteen kilos. It caused health problems that eventually led to his death.
——————————————————————————————————————————————————————————
ST GIANNA BERETTA MOLLA (1922-1962) – DIED 28 APRIL 1962
Gianna Molla was a pediatrician and a mother who chose to die so that her child might live.
She was born in Italy, the tenth of thirteen children
In 1942 she began her studies in medicine. Besides her studies, she was active in the Azione Cattolica (Catholic Action) movement and an adventurous woman who loved skiing and mountaineering.
In 1949, she received her medical degree, and opened an office close to her hometown.
Gianna had planned to join her brother, a priest in the Brazilian missions, and offer gynaecological services to poor women. When her chronic ill health prevented her from doing so, she continued her work at her clinic and specialized in paediatrics.
She reflected and prayed over her vocation. Having felt called to the vocation of marriage, she embraced it with enthusiasm and resolve to wholly dedicated herself 'to forming a truly Christian family.' She married Pietro Molla, an engineer. They had four children.
During the second month of her fourth pregnancy, Gianna developed a fibroma in her uterus. The doctors gave her three choices: an abortion, a complete hysterectomy or the removal of the fibroma alone.
As a mother, doctor and committed Christian, Gianna felt morally bound to choose her child's life over hers. She therefore opted for the removal of the fibroma. She told the doctors that her child's life was more important than her own.
On 21 April 1962, Holy Saturday, Gianna's fourth child, Gianna Emanuela, was delivered. Gianna, however, continued to have severe pain. She died of septic peritonitis one week later. She was thirty-nine years old. Among her last words were, "Jesus, I love you."
---

To subscribe to the magazine     Contact Us