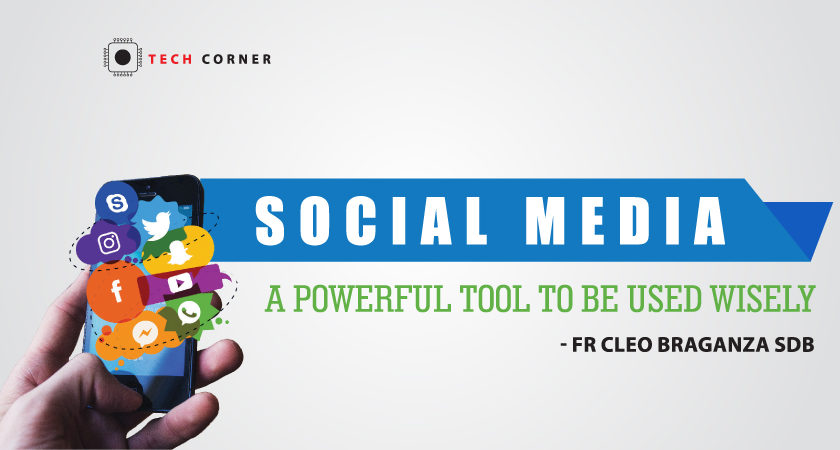 Fr Anil enjoys chatting with friends on Messenger, Skype and IMO till late in the night. Sr Meena usually goes to bed on time, but as soon as she wakes up, she compulsively checks FaceBook and WhatsApp on her mobile for new messages, photos and videos. Jason and Ivy, college students, check messages on their phones every few minutes. They are more in touch with their Facebook and Twitter contacts than with their parents.
We are familiar with such scenes. How can we learn to use this powerful tool wisely?
Technology helps us to contact people around the world, update ourselves and have access to a vast amount of information. This enables us become more efficient and prompt in managing many tasks. Digital devices permit us with minimal effort to organise a conference call, deal with online correspondence and communicate with persons on other continents, also cut down on the use of paper.
At the same time, social media also leads users to cross certain boundaries that are there for a good reason.
Some of the situations that could arise are:
contacting persons beyond set time limits
access of inappropriate content
 neglect of regular responsibilities
 unauthorised sharing of information, documents or media
 development of inordinate relationships
 compromising confidentiality of the institute
These dangers/risks are real for all, whatever our age or setting. Technology has a fascination all its own. Given that access to these media is easy, affordable and can often be done anonymously, they become a powerful, but dangerous tool.
Young people are habituated to the regular use of social media. Thus, candidates to religious orders are familiar with them even before they begin their formation. Some of them find it almost a need, and a few use smart phones without authorization. We need to face such situation, and train people to an honest and responsible use of social media.
Senior and middle-aged persons—whether lay persons or religious or priests—often shy away from using digital devices and social media, because of certain preconceived notions, or because they are not savvy. However, they will do well to learn to use digital devices and social media, and see how to use them for doing good.
Religious, priests and lay persons can make good use of social media to broaden their reach and improve their effectivity in various areas, some of which are mentioned here. Creating or forwarding attractive media posts and message are an effective means of evangelising and diffusing values, especially among the young. Social media is a good tool for spreading institutional propaganda, enhancing public relations and can even be useful for vocation promotion.  Consecrated persons can use the internet for updating their knowledge, obtaining resources, and also share their own digital resources (documents, images, music, videos, presentations, etc.) through social media or media sharing services.
In his message for World Communications Day 2013, Pope Benedict XVI urged consecrated persons to play a role in assuring the balanced use of social networks. How? By:
fostering dialogue, debate and critical thinking on social media forums;
inculcating respect for privacy and concern for each person;
encouraging honesty in the dissemination of news by verifying their authenticity;
promoting harmony between persons and groups;
Pope Francis adds that the Church's concern is to use these new forms and expressions in communicating Christ to the 'digital continent'. His own presence in social media is well-known, with a gigantic outreach.
How do you see these media? How do you use them? Technology, like any tool, can be used for good or evil. May we master its use, and use them for making our world a better-connected and more caring human family.
---

To subscribe to the magazine     Contact Us