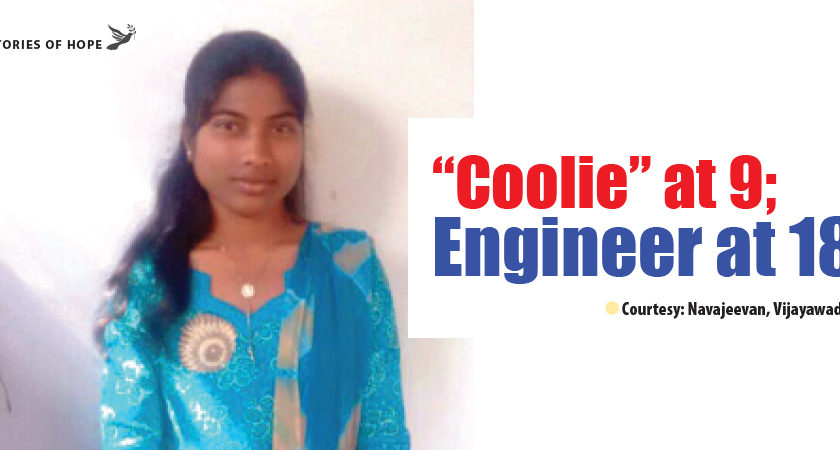 Chantamma worked as a "coolie" worker till the age of nine. Today she is doing Engineering in the prestigious Indian Institute of Information Technology, Nuzvid, Andhra Pradesh. On asking how she achieved this feat, she blushes and says, "It's all due to Don Bosco Navajeevan, Vijayawada, and Fr. Thomas Koshy."
Chantamma Vilugudi was born in a small village called Chigudipadu in Krishna District of Andhra Pradesh. Her father Kandha Rao and mother Lakshmi Kandamma were both agricultural labourers. They belonged to the Madiga community [traditionally engaged in shoe-making].
Chantamma was the youngest of three daughters. The family, with land of their own, lived in a small house allotted by the government. Since her father suffered from ulcers and her mother got frequent migraine attacks, they could not go for work regularly. Hence, at the age seven, Chantamma joined her sisters in doing manual work in others' fields.  Poverty, illness and the sheer inability to support three daughters left Kandha Rao and Lakshmi with no option but to ask their little ones also to contribute to the meagre family income.
As a result, Chantamma had no time to go to school, to play or even to take rest. Deep inside, this bright and intelligent girl longed to go to school to learn and to have fun, but these were dreams beyond her reach. She had no one to turn to for help. "This is my fate," she would tell herself, stoically suppressing the pain in her heart and resigned herself to the daily drudgery of working in the fields.
At that time Don Bosco Navajeevan launched an Anti-Child-Labour Campaign in the State of Andhra Pradesh. Rallies were conducted and door-to-door surveys made. One day, Ms. Syamala, a social worker on the staff of Don Bosco Navajeevan, visited Chantamma's house and learned about the girls' plight. She explained to the parents about the implications of child labour and how child labour perpetuates the cycle of poverty. Syamala told them about Government Hostel facilities for children and also offered them the opportunity to reside at Navajeevan and go to school. Though it was not easy, she was able to convince the parents. Finally, they allowed their youngest daughter Chantamma to go to Navajeevan. Chantamma was nine years old!
At Navajeevan, Chantamma was admitted to the residential Bridge Course for girl children called Setu. She had to begin with the alphabet! On completion of the Bridge Course, she was admitted to Class III. She was very quiet and hardworking, obedient and self-disciplined.  The girl's spirit of determination was her biggest strength. Very soon she was sent to Class IV in a mainstream Government school.  Navajeevan kept providing all the necessary support. She was a very quick learner and a rank holder every year. Finally, in 2011, in class X, she gave a stunning performance, scoring 547 marks out of 600.
At this time there was a Government Scheme for rural students who score more than 500 marks in SSLC to directly enter Engineering colleges through what was then called Integrated Engineering Courses. For Chantamma it was smooth sailing to the prestigious Indian Institute of Information Technology, Nuzvid, Krishna District, on scholarship! After the six-year course, Chantamma will be a triple IT Engineering Degree holder.
Currently, she is an Engineering student. Her hard work and determination, with the timely intervention and support of Navajeevan, Vijayawada, has made possible for Chantamma something considered hard to achieve even for children from rich families. The Government takes care of her study and hostel. Navajeevan provides her emotional support, some other practical helps and guidance.
Chantamma wishes to live a good life and help other girls like her to come up in life. In her own words, "You have given me so much in my life… because of it I am where I am… It was a start from scratch. I want to pay it back by helping other girl-children to come up in life."
---
To subscribe to the magazine     Contact Us