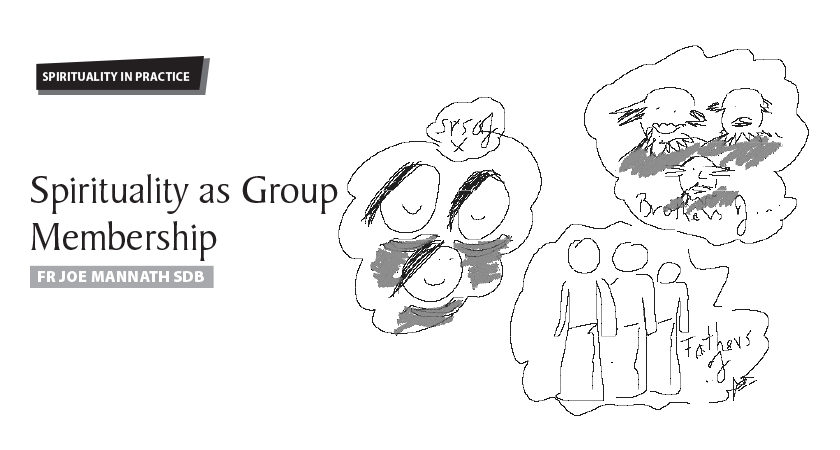 Who is your favourite saint?
Suppose you answer, "Therese of Lisieux," or "Francis of Assisi," or "Oscar Romero," or "Don Bosco," or whatever, it says something about you rather than about that saint.
When someone says, "I follow Jesuit (or Franciscan, or Carmelite or Vincentian) spirituality, it does not mean that Ignatius of Loyola or Francis or Teresa of Avila or Vincent Ferrer is our main model or point of reference. These saints cannot invent a new spirituality. They are disciples, not masters. There is only one Master.
You join the Christian Brothers or MCs, or I join the Salesians, not to become fans of Edmund Rice or Mother Teresa or Don Bosco, but to become more like Jesus. You and I cannot differ in the essentials.
Our spirituality cannot be defined by our group affiliation, but by our Christ-like life. Our students and patients, teachers and parents, whatever their religion or professional competence, can make out whether we are Christ-like or not.
What, then, is the use of belonging to special groups? Why not be a spiritual "freelancer," and walk through the world with our eyes focussed on Jesus? After all, he himself didn't join any special group.
We most certainly can. There are people leading excellent, inspiring, spiritually deep lives without being part of any special group. Think of Abdul Kalam or Etty Hillesum or Mahatma Gandhi or our own saintly family members or professional colleagues.
Being in a group or structure makes sense, if we use sincerely the helps it offers. It can be a cop out or worse, if I am not serious about my spiritual journey.
I was recently in Varanasi, and heard touching stories about the Krist Bhaktas. They are Hindus, but call themselves (and are) "Devotees of Christ." On the Lenten Friday I was there, five thousand (!) of them had come to Matridham Ashram for the Way of the Cross. They may be more serious followers of Jesus than I am.
Then why join groups? Why be part of the Church or of a religious order?
For structured helps. Like what?
If I think that the kind of structured helps this religious order offers will help me to become a better follower of Christ, then this choice makes sense. Otherwise, it can be an escape, or worse.
The helps are these:
Example of the founder and other inspiring members.
Good teachings: Helpful ways of praying, meditating, relating, working, etc.
Counselling, spiritual direction, sacramental helps, fraternal correction.
Support and challenge of community life.
Focus on, and dedication to, a mission (which, again, cannot be opposed to or different from the mission of every baptized person, but only a particular way of living it).
Are there handicaps?
Yes, of course.
I can stay in out of fear of facing life outside, or to enjoy the security, comfort and social status this group enjoys. If so, I may become pleasure-centred, power-hungry and mediocre. I will end up more immature and less God-centred than my married siblings. This, too, happens. A mediocre or irresponsible group member simply enjoys the reputation of the group and the personal privileges he or she gets from it.
Spirituality—living lovingly, wisely and responsibility in our concrete setting, using our gifts and accepting our limitations, or trying to become the best possible version of ourselves—cannot be guaranteed by group affiliation.
To be spiritual, for the Christian, means to live as Jesus lived and taught. It is, as is well-known, a path of active and forgiving love, compassionate and just dealings and incorrupt integrity. Whoever treads that path, as He did, is spiritual. Group membership does not assure godliness. My being Franciscan or Teresian is no proof of discipleship. The final and demanding test is active love extended to anyone in need. The final "passport control," will not check which group I joined, nor which "spiritual" practices I most assiduously cultivated. If you have doubts, read the Gospels—or check the life of your favourite saint.
Being part of a special group can help my spiritual journey—if I take responsibility for my growth and fidelity. If not, I will simply repeat the slogans of the group, neglect my personal responsibility, and end up a frightful mediocrity—or worse. There are saints, heroes, mediocrities and crooks in every group.
---

To subscribe to the magazine     Contact Us