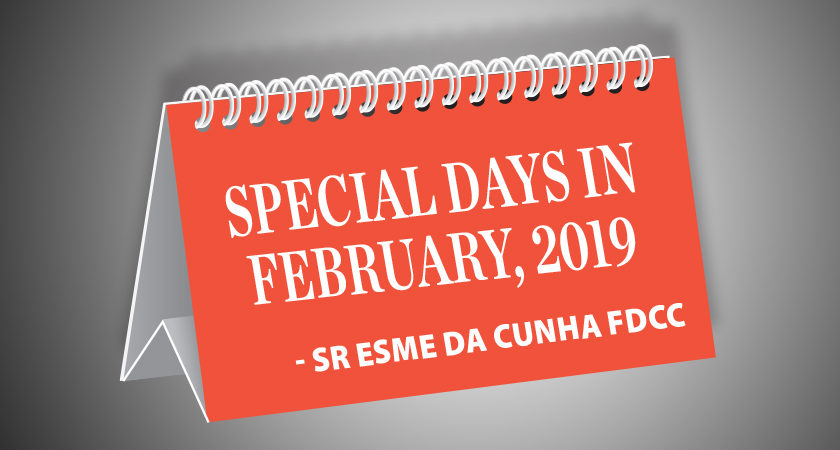 4 February: International World Cancer Day
The Celebration raises awareness of cancer and how to prevent, detect or treat it. The primary goal is to significantly reduce illness and death caused by cancer. It is an opportunity to raise our collective voice to end the injustice of preventable suffering from cancer.
Cancer is a leading cause of death around the world, according to the UN World Health Organization (WHO), which estimated that 84 million people would die of cancer between 2005 and 2015 without intervention. Low-income and medium-income countries are harder hit by cancer than the high-resource countries. It is essential to address the world's growing cancer burden and to work on effective control measures. This calls for a strong alliance between researchers, health-care professionals, patients, governments, industry partners and the media to fight cancer.
New strategies and programmes need to be implemented in India to fight and control this deadly disease. More than 12.7 million are diagnosed with cancer. More than 7 million die of cancer every year. The various types of cancer and death ratios per year are liver cancer (6,10,000), lung cancer (1.3 million), colo-rectal cancer (6,39,000), stomach cancer (8,03,000), breast cancer (5,19,000).
People need to be instructed to check its symptoms, follow its preventive measures, protect oneself from environmental carcinogens and be saved from the risk of this disease. Risk factors causing cancer are use of tobacco and alcohol, overweight, low fruit or vegetable intake, less or no physical activity, sexual transmission of HPV-infection, air pollution in urban areas, indoor smoke, genetical factors, over-exposure to sunlight, etc. People are also made aware about the vaccination method against the human papilloma virus and hepatitis B virus.
There are social myths that cancer is contagious and communicable by touch, so that patients are sometimes ostracized and treated as untouchables, whereas in reality they need a lot of support, care and concern, comfort and understanding.  Patients have equal rights to live like normal persons in society with self-respect and a normal environment in their home and society. Their wishes should be fulfilled by their relatives even if they have less chances of survival. Yet over-sympathy or pity may only increase their pain and fear. A new positive approach that cancer is curable is needed to boost their courage to fight the disease.
14 February: Valentine's Day
 Valentine's Day originated as a Western Christian feast day in honour of the Saint, a Roman priest martyred in 270 AD and considered the patron saint of lovers. He was imprisoned for performing weddings for soldiers, who were forbidden to marry and for ministering to persecuted Christians.  Valentine was interrogated by the  Roman Emperor Claudius II in person. Claudius was impressed by Valentine and attempted to get him to convert to Roman paganism in order to save his life. Valentine refused and tried to convert Claudius to Christianity instead. Because of this, he was executed. Before his execution, he is reported to have performed a miracle by healing Julia, the blind daughter of his jailer, Asterius.  He wrote her a letter signed "Your Valentine" as a farewell.
The expression "From your Valentine" was later adopted by modern Valentine letters. According to legend, Julia herself planted a pink-blossomed almond tree near his grave. Today, the almond tree remains a symbol of abiding love and friendship.
Another legend has it that to remind these men of their vows and of God's love, Saint Valentine is said to have cut hearts from parchment, giving them to these soldiers and persecuted Christians, a possible origin of the widespread use of hearts on St Valentine's Day.
The celebration of Saint Valentine did not seem to have any romantic connotations until Chaucer's poetry about "Valentines" in the 14th century.  Marking the beginning of spring, Valentine's Day has more recently been celebrated as the day of love.
In spite of its obscure origin, this day has become a very popular day dedicated to love and friendship, fidelity to marriage and the family. A day to remember and cherish. It brings out what is most beautiful in human life and relationships.
---
Sr Esme Da Cunha FDCC To subscribe to the magazine, click Subscribe