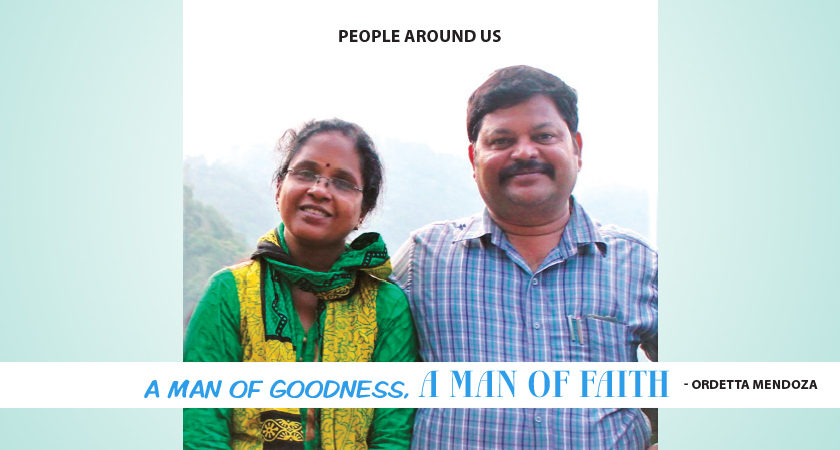 Member of the executive committee, the parish council and the liturgical committee, co-ordinator of the BCC's (Basic Christian Communities), catechism teacher, Charismatic prayer group member, business man, father, guide of the parish youth, patriarch of his family, the list goes on… and yet Joseph Sheeban has time for mass every day—sometimes even twice a day!
The eldest of the four children of Daniel and Assunta, Joseph is a hardworking young man who gives his time for others. As children, Joseph and his brothers and sisters had to attend mass every day and when the first Mass was over they were taken for a second Mass, especially during the holiday season. His mother was a teacher in the parish school, while his father, after a short stint with Caritas,  went on to support his family by giving tuition in English and French. Joseph had his early education in the parish school, but moved on to a better known high school. His family nurtured his spiritual life right from early childhood. He says: "Our whole family gathered for prayers every evening for an hour or more, the rosary always followed by bible reading and other prayers. No day went by without morning mass and evening prayers." Joseph inherited this practice from his father, who had a major influence on him. The children were taught by their dad to 'obey blindly.'
Joseph and his siblings knew poverty from childhood. The meagre earning of the parents could never get them anything beyond the bare necessities of life. But what Joseph remembers vividly is that every Wednesday, without fail, either the postman with a money order from a friend of his father or somebody from the parish or elsewhere would turn up at the house bringing some goodies or just a few necessities required to cook a meal. Says Joseph: "My dad had great faith in St. Joseph, and prayed to him, especially when we were short of food. Dad would always say, 'Leave it to Divine Providence; someone will bring it for us'."  This happened every Wednesday.
Joseph's desire to become a graduate was not to be, since the family was always in dire financial straits. All that Joseph could complete was a Diploma in Electronics and Communication Engineering. With this, he began helping the family at the age of nineteen. He worked at several jobs and rose to become a senior stores manager in Videocon. At the same time, he also secured a degree by correspondence from IGNOU. When the company shut shop, Joseph began his own business. He depended all the time on Divine Providence and trusted the Lord to lead him.
His faithfulness in attending Mass daily continues. He also immerses himself in the Charismatic prayer services and night vigils in the neighbouring parishes. He and his brother would also take people by bicycle to attend programmes in the neighbouring parishes. Both brothers had a deep desire to join the priesthood but his was not to be. Joseph's His father asked him to give up the idea of priesthood and take care of his siblings as well as arrange for his own marriage and those of his sister and youngest brother. With much reluctance Joseph accepted and continued to work hard and sustain the family while supporting his immediate younger brother in the seminary.
Joseph married a nurse called Isabel. "How did you meet," I asked him. "Ah, at one of the Charismatic prayer group meetings." Together they have raised two wonderful children, who emulate their parents in attending daily Mass and also contribute to the parish by involving themselves in various activities. Today, Joseph, Isabel and their children give their time on Sundays for parish work, irrespective of whatever else needs to be done. A great organiser, Joseph is very often entrusted with the catering for various get-togethers in the parish. In his turn Joseph gives much of the credit to his wife, saying that Isabel is the backbone of his functioning!
Conscientious and sensitive to the needs of others, Joseph is able to handle the youth of the parish, and, as co-ordinator of the BCC's, attends the various BCC regularly. Calm and composed, he has a ready respectful smile and is good in resolving conflicts, especially among the youth in the parish.
Apart from sincerity and honesty, the hallmark of his small business of running an electrical repair and service centre, through which he provides employment to a number of young people, is his dependence on Divine Providence. I have often heard him saying, "God has given me much; I also have to give to others as much. Let us continue to pray and trust in the Lord, so that we can give more time for His work."
To read the entire article, click  Subscribe
---
Ordetta Mendoza