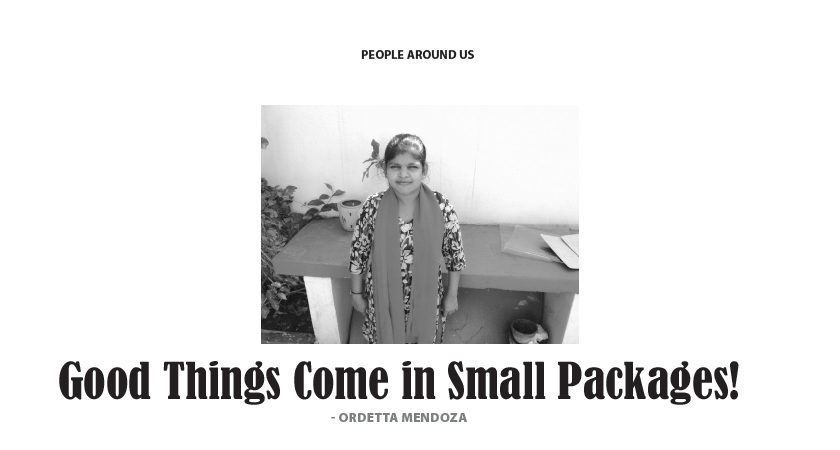 I chanced upon a 'little woman' a few years ago when she was introduced to my family by her aunt (Mrs. Vennila) who was employed as a domestic helper in my house. "I am unable to come to work, since I have shifted my residence, and am finding it difficult to commute. This is my niece Malathi. She is willing to work in your house."  We were taken aback, seeing a little girl who appeared to be about twelve or thirteen. We told Vennila that we could not employ her, since it is against the law to employ minors. We would be booked for child labour. Besides, this child should be in school!  "No Madam," sprung a little voice, "I am twenty-two years old and have been working for the last eight years." I could not believe my eyes and ears.  After much quizzing and clarification, we decided to employ her, wondering all the time how she would cope with the work, but wanting to help her and give her a safe place to work. Her only demand was a footstool to help her reach the kitchen sink tap!
All of a metre (about three feet and four inches) in height, Malathi hails from a hamlet in Tamilnadu's Thiruvanamalai district. She was denied a normal childhood when her father expired. Circumstances forced her to quit school when her family migrated to Chennai in search of work. Her mother, the only breadwinner at that time, took to working at construction sites, while her brother, with his wayward life, became a drain on the family's resources. To help her mother support the family, Malathi started working at fourteen.
Small in size, great in mind
What makes Malathi stand out in the crowd is her tiny physique, pleasant beautiful smile and child-like demeanor. A dwarf from childhood, she has never let her height (or the lack of it) get the better of her.  She has devised ways to make up for her short stature, and is quick to find a remedy when faced by challenges to her height. Whenever she needs to reach the switch of a light or a fan  (positioned about five feet above the ground), Malathi uses a wooden spoon or the handle of the broom! I am amazed at her dexterity in using implements larger or heavier than herself. Her ingenuity is awesome! She has never excused herself from completing a task due to her stature. Committed to her work, she will put several others to shame with her dedication and sincerity.  Tasks assigned to her are completed meticulously and thoroughly. She is like a mini whirlwind! Once she enters the house, she does not take even a few minutes off, except at meals time, unless commanded to do so. I have had several tirades with her when at times I step in to her domain to help with some of the chores. Such arguments have often ended with her declaring: "Amma, this is my job; you go and do yours!"
Never shying away from work, Malathi is eager to learn anything new, be it tightening a screw, handling the pliers or secateurs, pottering in the garden, using the microwave oven or making an omelette. She tries her best to hone her skills and add new ones too.  She refuses to take a day off work unless forced to and rarely asks for free time.
Other aspects of her character are extreme honesty and a wonderful memory! We introduce Malathi to everyone who steps into our home, be it a family member or a friend. She is like a security guard who will not allow anyone inside our home unless she is convinced of all their credentials.
A Smart Polyglot
Working in houses, Malathi has picked up several languages and today is a polyglot. She can speak Tamil, Hindi, Urdu and Telegu fluently, as well as a pretty good smattering of English.  Malayalam and Konkani are on the anvil! Her choice of clothes is not the traditional saree, but western ones! Sharp, respectful and quick-witted, she is well known in the locality. She continues to work and support her mother as well as her brother's family, since he is struggling to pay off debts accumulated over the years.  Recently, with much cajoling, she has opened an account in the post office and pays into a recurring deposit scheme in view of her future. With such qualities I often wonder what position she would have held if she had had the opportunity to complete her education.
---
Ordetta Mendoza
To subscribe to the magazine, click  Subscribe