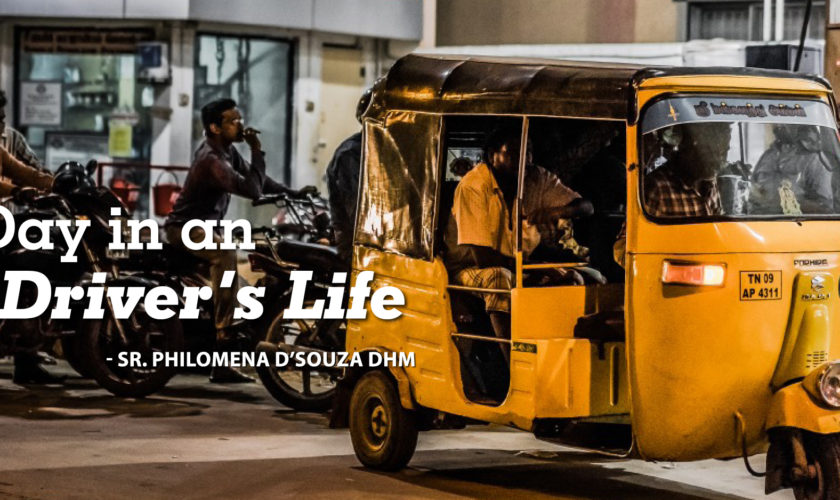 When you get into an auto or use other services, do you think of the person doing this job?
"My day begins at six. I prepare tea for my family, and wash my rickshaw. Then my wife Monica, my three daughters and I have breakfast together.  I take my kids to school in my auto and start looking for customers."
That is how the day begins for Jason (name changed), a forty-two-year-old auto rikshaw driver in Mangalore, Karnataka. He is the youngest of eleven children. His parents were agricultural labourers. He too did the same work until eighteen. Then he went to Mangalore, and did odd jobs in Catholic institutions. His employers helped him to buy a house and a rikshaw, as well as get a driving license. His daughters are studying in classes 10, 5 and 4. One of them is "differently abled."
Jason's daily routine includes a ten-minute visit to a church. After that, he goes to the railway station in search of passengers. He tries to be calm and patient in dealing with the passengers, who are tired and harried after their journey and eager to reach home.
"My job has taught me a lot about human nature," Jason says. "I have learnt to deal with all sorts of people." He tries to be helpful to the confused, to passengers with luggage, to women travelling with children and elderly persons struggling with their luggage. Some passengers are polite and generous with tips, while others are stingy, paying him even less than the fare.
What are your expenses?
A good part of his earnings go towards the maintenance of the rickshaw. He has insured his autorickshaw, but has no personal accident insurance.
 In between ferrying of passengers, Jason has a cup of tea or spends time talking to fellow rickshaw drivers. He buys lunch (usually a plate of rice) for about Rs. 30. He does not smoke or drink. He arranges his working hours in such a way as to be free to take his children home from their schools. After tea at home, he goes back to his driving and returns home around 8 or 9 p.m., tired but satisfied. He earns Rs. 300 to Rs. 500 per day.
For Jason and his wife Monica, their family comes first. Monica does domestic work in some homes. They both do their best to educate their children and teach them honesty, discipline and hard work. Since they do not have any health insurance, medical expenses are a big burden.
Their idea of relaxation or fun is to enjoy a soft drink (Sprite or Coca Cola) on Sundays, and to go out occasionally for a meal of fried rice or noodles. A few months ago, their two younger daughters received their First Holy Communion. For this special occasion, Jason wore a suit, which a relative lent him.
Jason does not have much of a social life. His reason for not visiting his friends is touching. He understands that for poorer people, feeding a guest can be a burden. So, when a friend or neighbor invites his family for a function, he makes sure that only one family member attends it. "I understand how expensive these functions are. People borrow money to buy food. We should not burden them."
Jason belongs to an association of autorikshaw owners through which he saves around Rs 200 a month. He has no other money to fall back on in case of an emergency.
"Are you satisfied with your life?" I ask Jason.
"I would have liked my life situation to have been different," he replies. "But I have no regrets. My parents did what they could, given their financial condition. The schooling I got was what they could afford."
Then he adds, "God has been with me. He has sent people to help me. With their help, I was able to move from working on a farm to being an auto driver, with my own house and auto."
Jason does not grumble or complain. He does what he can to improve his situation.
The driving force that energizes him is easy to guess—to provide a better future for his three daughters.
---
To subscribe to the magazine     Contact Us