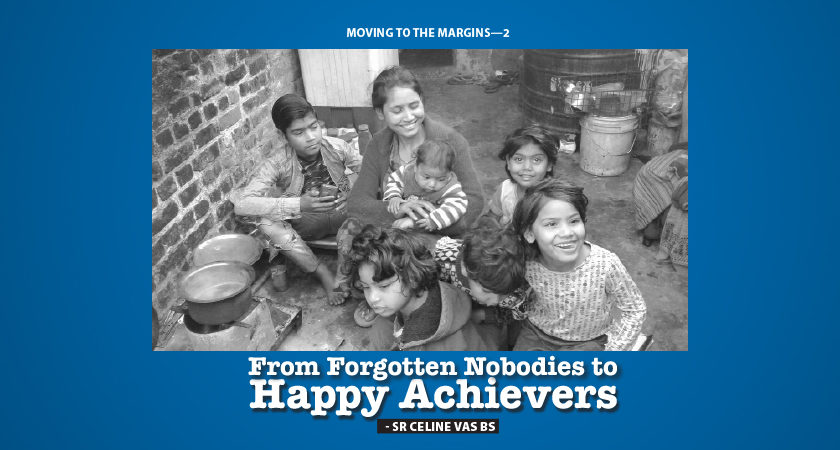 Love can bring hope and create miracles in the midst of desperation and misery. See what a group of concerned Sisters and their co-workers are doing in Asia's second largest slum, situated in India's swanky capital city.
You enter Sangam Vihar in the heart of Delhi and see this shocking scene. All around you are thousands of dilapidated huts, most of them "tents" made of gunny bags and sheets of plastic that serve as the roof over the head for many, many families. You have just entered the second largest slum in the whole of Asia. It is found in India's capital city, which boasts of a swanky new airport with three terminals rated as the best airport in the world in its category, posh residential areas and much wealth.
I enter from one edge of the slums. Here comes Lalitha with her four children, taking them to St Gianelli Social Service Society (GSSS) headed by Sr Ema, belonging to the Sisters of Our Lady of Garden.  Lalitha's two boys, both below ten, are rag-pickers.
"Are you happy to go to school?" I ask them.
With a mischievous smile, one boy says, "Yes," while his brother says, "No." One said he is happy to go "because in the school we play; we dance, study and eat a tasty meal served by our Sisters." The other said, "I too feel happy, but I cannot attend the tuition classes in the evening. I have to go to faraway places to collect rags. I find it hard to study." Both the boys are telling the truth.
I ask Sr Ema about this. She tells me that the Centre runs classes for the slum children from 11 am until 1 pm. From 3 pm to 5 pm, they offer free tuition for the regular school-going children.
The sisters started this centre in 2007. It provides free lunch to 120 slum children. The meals are sponsored by a scheme called "Bread Noida" run by the IMS Fathers.
Brilliant Kids
"These children are very intelligent and creative," Sr Ema tells me. "I love to work with them.  They feel quite free with us. They are ready to give any programme any time. They can give items on the spot. You play a song from the CD, and they dance joyfully.  Ask them for a skit, and they act out their reality."
Comparing these children to the students in the so-called "normal schools" in which she has worked, Sr Ema says, "I have worked in some of our schools. For any programme we train our students for days together and yet we feel anxious whether they will perform right. Here, instead, we do not need to give them any practice. Our children manage any programme boldly and creatively. I admire their tremendous talent and energy."
"What activities do you do with them?" I ask her.
"We conduct rallies, mostly to create awareness on health issues, education, children's rights and leadership. We have found that the Children's Parliament is the most effective way of making them aware of their rights and teaching them how to demand their rights. Here, the most essential or disturbing issues are discussed.  This is the way their voice is heard in the Children's Manifesto for 2019 (CM2019)."
Speaking about the Children's Parliament, one of the staff, Mrs Godhambary, says "We have divided the whole group into five units comprising of thirty-six children. Each child is given the responsibility of heading a ministerial position,  like health, home, finance, education, environment, etc. Last month, with our help, the "Health Minister" organised 'Beti Bachavo, Beti Padavo' rally with a hundred children which drew the attention of their parents and CM2019.
Another staff member, Mr Gaurav, says "Every month we conduct a health camp on health and hygiene issues. Max Hospital, Delhi, sponsors this programme. Doctors from Max come and conduct necessary tests and administer medicines free of cost. The children and their parents enjoy this programme as they display different issues of health and hygiene through puppetry and street play. We have one Dr Pearl rendering free medical service to women."
Coming back to GSSS, it has seven staff members. Sr Ema wishes they were better paid, but the centre is not financially self-sufficient. She is full of praise for a Catholic man from the parish who pays Rs 16,000 every month towards staff salary.
I am struck by what Sister tells me about a certain Mr Govind. He works for Childline in Indore. Sr Ema looked after him when she worked among street children in Khandwa. He says, "She is my mother." He gives her credit for his life and achievements. He has no one to call his own; so, he works for the children who have no one. They remind him of his own childhood.
A girl called Ashwini is doing her 12th standard. She started coming to GSSS eleven years ago Even now, she continues to visit the Centre. She tells the Sisters: "Without you, study would have been only a dream for me. Here I could study, and also look after my younger sisters and brother." Her three siblings are also studying at the Centre.
A Muslim girl called Praveen Sheikh had a great desire to study, but her parents did not want it. The efforts of GSSS brought her to the sisters. Now she says, "I will study not only up to the 8th standard. I will do my 9th, 10th, 11th and 12th." She is determined to complete school. "She has become courageous and decisive," adds Mr Gaurav proudly.
For Sr Ema, GSSS is not the first experience of working with the poor. Earlier, she was in Khandwa, MP. Together with another Sister called Ambika, she noticed the rag pickers, runaway boys, children of unwed mothers, drug-addicts and pick-pockets at the railway station.
What to do for these children, who seemed to have no one to turn to, and no home to call their own?
The two Sisters started to meet them on the railway platforms. They attracted them with songs, games and offering them hot meals prepared in the Convent and serving them on the railway platform.  The boys seemed happy to enjoy the company of the Sisters. Slowly, the Sisters approached the railways authorities, and asked them to lend them a room with a toilet. Seeing the good work of the Sisters, the authorities readily agreed. They gave them a room on the platform. The Sisters brought some plates, boxes and carom boards and other play material. The boys found a home for a shelter, warm food, some entertainment. Each child was also given a trunk in which they could keep their belongings. One key of the trunk was given to the child and another was with the Sisters. As the boys started trusting Sisters, they even handed their earnings to the Sisters, or kept it in their boxes. They now had something to call their own. More than that, there were people who cared about them. Further, they had a place for taking bath and for washing their clothes—"luxuries" they had never had before.
Later, these children were shifted to a government-run day care centre nearby. The Sisters were allowed to take care of the girls.  When the number of boys and girls increased, the Sisters began their own Nava Jeevan Children's Home. The Railway authorities, the Police and other government officials were very co-operative. They would send boys and girls to this Children's Home. Everything had to be done according to the Government rules, of course.
Nav Jeevan renders day and night care to the children. It has taught and cared for 1500 students so far. With the initial training offered by Nav Jeevan, these children are  sent to neighbouring schools. Many of them study in English Medium schools. Nav Jeevan Children's Home run by the sisters of Our Lady of the Garden takes care of the expenses of these children.
Sr Ema did her Post Graduation at the Indore School of Social Work. She has now worked among street children, rag-pickers and slum dwellers for twenty years.
I ask her: "What makes you feel at home in this ministry?"
She tells me, "From my initial formation days, I had a dream of teaching poor children. I felt this calling in my heart. I am happy here."
(The photos show life in Sangham Vihar—adults, children, "houses," cooking, working.)
---
Sr Celine Vas BS
To subscribe to the magazine, click Subscribe