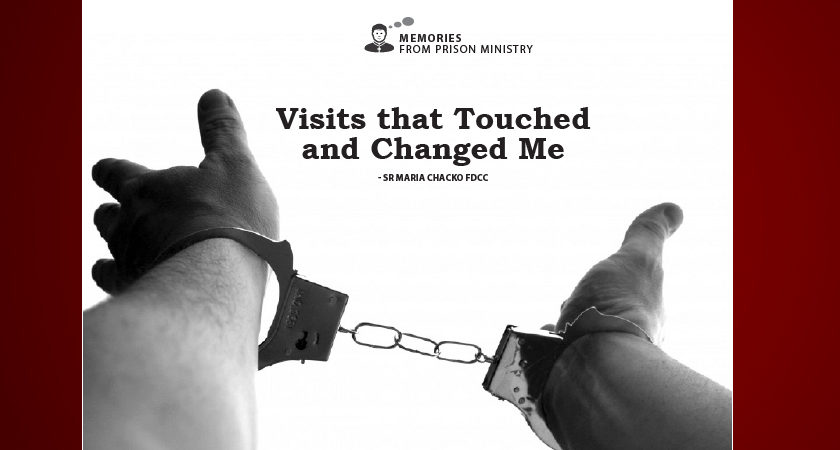 Jesus said that He came, not to call the righteous, but sinners (Mt. 9:13). Strange as it may sound, he had a soft corner, not for the "good ones," but for the messed up characters. He challenged the self-righteous crowd who wanted to stone the woman caught in adultery, "Let the one among you who is without sin be the first to throw a stone at her" (Jn.8:7). Those in jail are not the only ones who commit a crime.
Pope Francis started his talk in a prison in Central America with these touching words, "Standing before you is a man who has experienced much forgiveness."
In my experience, God walks with us very powerfully when we are engaged in prison ministry. I got into this ministry very reluctantly. I did not know anything about it. I went because I was asked to. To get some basic idea, I went for prison-ministry training. It proved to be very useful. But what would change me profoundly was not some nice theory, but the touching human stories I witnessed in our prisons.
A different world
In ancient times a prison was considered a house of captives and a place of punishment. Today it is viewed as a correctional home or institution for rehabilitation. People in prison are human beings who are need our love, compassion and understanding. Unfortunately, Indian prisons are not what they should be. Most are over-crowded. They have minimum facilities, so much so, in one prison they have a shift system for sleep, due to lack of space. They do not have sufficient staff to take care of them. The prisoners are underfed.  Medical facilities are also given negligently. There are malpractices, such as the visitors to the prisons being asked to pay fees. Not all the things visitors bring for the prisoners reach them. Undue punishment is inflicted on them from time to time, and human dignity is being denied. For example, they have to sleep on the floor. They are not allowed to sit on a chair.
Prison ministry is not an option; it is an obligation. Every human being is a precious child of God. How come some of them become criminals? How do we help them change their life and be integrated into their families and into society again? In each of them, we meet Christ.
Some prisoners have no one to visit them or care for them. There is a great need to release them from loneliness, guilt, shame, fear, frustration, unforgiveness, hatred and revenge. We often forget that the prisoner was a brother or sister, father/mother, or a friend to someone, till he or she reached the prison. Once they are in the prison, they are often seen and treated as nobodies—isolated, hated, rejected, ignored and written off.
On one occasion I happened to talk to a convict who was very respectful and cordial. I used to meet him often. One day I asked him whether he had any good news of his release. "I will be bailed out within a year or two," he replied. "But I have spent the best years of my life locked up here."
He must have been in his fifties then. "I have no wish to go back home. Both my parents are dead;  my wife got married to someone else; my children are settled. Where can I go? This jail may well be my home now, for the rest of my life!"
Another time, a police superintendent told us that, in some cases, the relatives do not even come to claim the body when an inmate dies in the prison. The prison authorities have to see to the burial or cremation at the expense of the prison.
When will I go home?
One day, after my regular visit to the prisoners in a central jail where there are some 2300 men, I was at the last door—a low door, half open—that led out of the prison. One has to bend low to pass through it. A prisoner was waiting in line to receive the things his relatives had brought for him. "Sister, are you going back home?" he asked me. I nodded my head. "When will I get a chance to go home too?"  "How long have you been in jail?" "Seven years." We could not carry on talking, since the security guard approached me and requested me to leave. I never saw that prisoner again, though I looked for him every time I went there. I will never forget the sad look on his face.
A thirty-one-year old convict, a computer engineer, was sharing his agony with us. He had a young wife aged twenty-seven and two children at home. Waiting and waiting for her husband's return, she became mentally ill. We got his home address and went to visit his family. The young woman blurted out: "When will my husband come home for good?" To pacify her, we said that he would to coming back soon. We framed a letter to the I.G., pleading with him to allow the prisoner to return to his family for a few months, to give his wife some temporary relief. Unfortunately, the reply of the I.G. was that there was no provision for this in the case of convicts.
On Raksha Bandan Day—an Indian feast on which women tie a special thread called "Rakhi" on the wrist of their brothers or of some other man whom they see as their brother—we usually tie rakhis on the wrists of hundreds of prisoners and become a sister for them. Since their own sisters are unable to visit them, this gesture means much to the men. Many prisoners break down and cry bitterly, thinking of their family members. All of them, however poor, give us at least ten rupees from the little money they have. After all, on this day, the brother is supposed to give a gift to his sister! One of the prisoners once gave us a 500 Rupee note. An old man cried because he did not have even ten Rupees to give us. We usually have a bhajan service with them, on the sacredness of the brother-sister relationship.
Children in jail?
There are also little children in our jails. They were either born in the jail or, being small, need to be with their mothers. Some have never seen their father. The prisoners become their relatives and siblings. What an environment to grow in! We wondered whether the authorities could make some arrangement for pregnant women so that they may get better care and have a healthier and more normal environment for their children.
Whenever I needed money to help prisoners, God-sent angels were there for me. Poor prisoners would ask me for warm shawls during winter. Friends would give me money for getting such things. At times, without my asking, good people would give me money for the prisoners. I felt the hand of God reaching out to me through them.
"When I was in prison, you visited me. What you do to the least of my brothers and sisters, you do to Me." Prisoners certainly belong to the least and the most forgotten. May we see the face of Christ in them, visit them, and do what we can to help them. More people are aware of the plight of prisoners today. Much more can be done, if more of us opened our eyes and hearts to the needs, pains and dreams of our brothers and sisters who languish in prison, largely forgotten.
We also need to keep in mind this tragic reality:  a large number of persons in Indian jails are undertrials—men and women whose cases have not been tried!
---
Sr Mary Chacko FDCC – Sr. Maria Chacko, a Canossian Sister, has been a full-time volunteer in the Central Jail at Motihari, Bihar.

To subscribe to the magazine     Contact Us