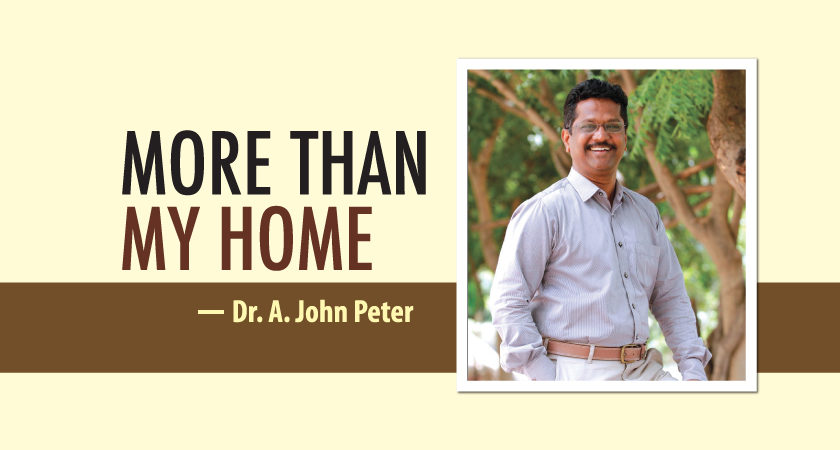 A married man and dean of a business school, Prof. John Peter shares impressions and memories of his seminary days, as well as some suggestions to religious and priests.
1. You were a seminarian once. You are now a husband and parent, and a lay professional. How do you see your seminary life in retrospect?
I formed myself in St. Peter's Minor Seminary in Madurai for two years and in Sacred Heart Seminary, Poonamallee (Chennai) for eight years. The most important stage of my life was in Seminary. I always feel happy and proud that I spent eventful years there discovering my passion, identifying my purpose in life and interiorising the values of Christ.
My seminary was more than my home. It is there I grew up in my quest for knowledge, experimented, made mistakes, corrected, learnt competencies, practised skills, built and became part of teams, learnt to reflect on issues that surround us. I had exemplary and dedicated professors who were very understanding and supporting. Facilities like the library and the prayer hall played a major role in my development.  Coming from a remote village, struggling to face other people, insecure about my English, I have become a person who can play a vital role in transforming the life of thousands of students. The credit largely goes to the Seminary and the atmosphere provided there.
2. Who or what helped you or inspired you? What are the best things you learnt in the seminary?
In my minor seminary, the dedication of Fr. T. A. Soosai and Fr. Pudumai was noteworthy. They   spent time and energy in teaching English, correcting handwriting and compositions. Their total availability to capacitate us was marvellous.
The Faculty in Sacred Heart Seminary encouraged us to question, experiment and learn. They built confidence, courage, attitude to learn and be involved in the issues concerning the vulnerable sections of the society. There was an atmosphere of freedom, empowerment, dialogue and assurance. We could always raise any question to the faculty, who would always listen to us patiently. By this I do not say that we did not have difficulties.  The role of Fr. Joe Mannath, Fr. Lawrence Pius (now the Bishop of Dharmapuri) and  Fr. Jaswant in encouraging us to be open to learning and pick up tools for personal  development, and  Frs. James Victor and Maria Alphonse in contextual understanding of  society and integrating social involvement, have shaped me to what I am today. Even now they remain as my beloved teachers who continue to inspire me to be an open and efficient teacher.
I vividly remember the language academies, community events, common theological reflections and the remarkable symposia, which were true learning events. All these provided platforms to showcase and develop my potential. The contribution of village outreach programmes, such as oratories and Village Integral Animation (VIA) to shape our understanding of society is remarkable.   A group of likeminded students formed a learning cell. We regularly met to share and discuss on the social issues. That made me to read and reflect more. My priest friends from my seminary days play a major role in my life today.
3. If this question is not too personal: What led you to join the seminary, and what led you later to leave it?
I have not been very pious in the traditional sense. I have not been very comfortable with rituals. My quest of seeking the truth and meaningfulness landed me in the seminary and I left the seminary because I thought I could continue that spirit better outside the boundaries of the Church.  I am not sure if my decision is right or wrong, but the treasure that I got in the Seminary is with me. I continue to pursue the same goals that I developed in the Seminary.
4.What profession are you in now? What meaning do you find in it?
My goal of inspiring, sensitising and advocating the cause of the poor and making meaningful contributions wherever I go remains with me. That is my vocation. My career changes as I am not a career-oriented person. I have not valued a vertical mobility in my career, competing with people in getting coveted positions.
Presently I am an Associate professor and Dean of a Business school, facilitating learning in Personal Growth, Organisational Behaviour and Business Ethics. My Contribution in my present career is building confidence, optimism, communication and social sensitivity in the students, especially the first generation learners.
I follow the methods and processes followed in seminaries in developing students, because I benefitted from the same. I am recognised for my ability to innovate, develop systems, organise events and inspire students. Often I hear that I can do all this efficiently because I am an ex-seminarian. That is a great credit to the seminaries. I have a sense of pride in saying that I acquired all that in seminaries. I continue to go to the seminaries to take classes and maintain an engaging relationship with many of those classmates who have become intimate friends. We meet often and share the stories of our life.
5. What are the best lessons marriage and parenthood have taught you?
My family life has made me to understand the intricacies of relationship and the need to groom relationships carefully. We grow in freedom. As parents we do not impose our preferences on our children. We just play the role of enablers.  The friends who have accompanied me from the seminary days continue to be part of my family and stand with us when we face difficulties in understanding. Societal values, such as, gender justice, promoting diversity of perceptions, values and preferences, as well as making family as an integral part of society, are carefully discussed and recognised in our family.
6. What can married people and priests/religious learn from each other?
Priests and religious can learn how people in families live in love in spite of the differences in temperament, attitude, beliefs and priorities. We learn to live with all the differences. And the family is a place to understand diversity and live with it. Sadly, I see that living together is becoming very difficult for priests and religious.
We, married people, need to learn the great spirit of sacrifice when priests and religious have to work knowing fully well that they do not belong there and that they will be asked to move to other places.  That is possible when you have love for the people of God and not just to be confined to your family.   Priests and Religious need to strategise to bring catholic professionals to play a leadership role in the Church. Only the pious people seem to get along with them. We need to recognise the diversity among the Catholic population and engage the majority of believers in parishes and institutions, and not just keep them as employees.
7. As a lay professional in a Catholic college, what suggestions would you make to church personnel?
Priests and Religious must be willing to part with the administrative and managerial responsibilities that can be taken by others who are experts in this. They must focus on strategic leadership and guidance to the Christian community. When families are overburdened with routine responsibilities for survival in the competitive market, leadership at the family and parish level can be given by the priests and religious. The regrettable thing is that the new insights from behavioural sciences and educational pedagogy are not taken to the people. Priests and religious can lead in this, and initiate innovations in ministry.
8. Who or what inspires you most and helps you to live your life with meaning and passion?
Jesus continues to inspire and challenge me every day.  Having realised the love and passion that Jesus had for the people of His times, it is very difficult to get into my physical comfort zone without taking up the cause of the others. The tools to understand society and follow it up with practical wisdom have been given by E.V.R. Periyar (a Tamil social   reformer), Marx and Ambedkar. Today there are thousands of persons, both married and celibate, who work for the betterment of the society; they inspire me.
---
– Dr. A. John Peter is Dean-Academics & Associate Professor, St. Joseph's Institute of Management, St. Joseph's College, Tiruchirappalli, TN.
To subscribe to the magazine     Contact Us