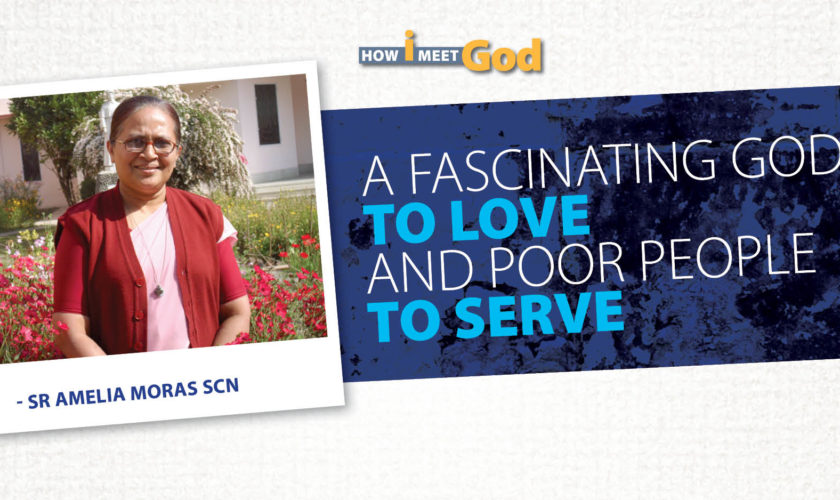 I pause on my journey of life and look back where I came from. I see spots of stumbling and rising… and am able to see how far I've come and what a"God-searcher" I've become….
My home at Halakke, Mangalore, was in the midst of hills, fields, rivers and groves of coconut and arecanut trees. I grew up in a family of eight siblings in the lap of beautiful nature. My search for God began with my mother introducing me to a God who provides all the good things that we need. She said all what I need to do is to be grateful.  I experienced God who is present everywhere in the goodness of nature. I used to walk to school every day and to church on Sundays. On the way we gathered plenty of wild fruits and had lots of fun. We enjoyed playing pranks on one another. My devout parents encouraged us to participate in the many "faith-activities" of the Church.
As I grew in faith I had to move on in my journey to a boarding school for my high school education. I disliked staying away from home. I missed being amidst my large family. In the boarding we had inmates from diverse religious back grounds. My world expanded a little; so did my God-perspective. During holidays all of us siblings would go to our grandparents' house, which was large and full of life. I loved my holidays with my loving parents and grandparents, aunts, uncles and cousins. In their hospitality my every need was met. Often secretly I used to think:  God's house (Heaven) must be like this—secure, joyful, full of fun and laughter, with big banquets, good company of loved ones, plentiful fruits and grains from the fields.
The years flew swiftly. I was fifteen when I passed matric with good grades. It was time to decide on the future course in life. I didn't want to study further, since that would take me away from home once again. At the same time I wasn't sure what I wanted in life.
Amidst this uncertainty I once heard a Sister from a religious congregation based in Bihar speak to us girls after Sunday mass. Usually these talks bored me. That day too I sat on at the back, not too much interested. I was not aware that God was sowing the seeds of a missionary vocation  in my heart. I had never thought of becoming a religious except for reciting a routine prayer for vocations taught by an Ursuline nun. She was my English and catechism teacher, and I was fond of her. She visited my home often, since she was a friend of my mother.
There was something profound in what this particular nun said that day. She about the utter poverty, need for vibrant missionaries to spread the gospel… I felt a deep stirring that disturbed and challenged me enough…. I couldn't help but respond to this call to serve the people of Bihar. I felt a deep sense of God needing me for Himself.
My road to the discovery of Bihar began with my formative years in the Congregation of the Sisters of Charity of Nazareth. The varied experiences provided for me to live among the poor gave a sure foundation to my call. My first posting was in Gaya, a place associated with the. Buddha. I was positively influenced by his teachings. This experience opened me further to the riches of other religions.
The next six years I spent in Sophia College and St.Xavier's College (both in Mumbai) pursuing my graduation  in Microbiology and post -graduation in Applied Medical Science with an internship at Hinduja hospital. These years were very challenging amidst conflicting situations and worldly values. I experienced more tests and temptations than affirmations. I was offered a lucrative job at Hinduja's and a scholarship at the University of Maryland, USA. I went through the most difficult time of my life. I was even ridiculed and laughed at by my professors for wasting my good grades and a promising life and choosing the drudgery of Bihar.
My faith-love relationship with Jesus, which seemed shaky, became very strong when I re-committed myself for the God of Dalits in Bihar and returned to it, rejecting all temptations. I worked for eight years in our hospital as head of the pathology department. Lots of struggle, hard work and a deep satisfaction were part of hospital memories. Work situations around the hospital were scary—with problems of goondaism, extortion, casteism, landlordism, to name a few. Further,  I had to fight the blood-selling racket which even threatened my life when I took a stand against it. I couldn't even freely go to the market. In all this, I encountered a God who suffered and sided with the poor. My love for the God of Dalits  took deeper roots.
At the height of my professional growth at the hospital I was asked to move to answer the need of formation. In faith I said yes to this call, not knowing that would take me away completely from the life-preserving ministry at the hospital, which I treasured the most. Formation ministry required adequate preparation, which my religious order provided by giving me chances to study theology, get Clinical Pastoral Education and experience challenging mission exposure amidst the marginalized in Surkhet in Nepal. I was humbled by the trust God and community placed in me by investing in me.
I was privileged to accompany many of our young women for fifteen years during their candidacy and novitiate. It was, above all,  a time for deepening my faith and in growing in an intimate relationship with Jesus. Living an exemplary life of faith, love and commitment was a big challenge. It was only possible through a constant emptying of self, inner silence and attempts to experience contemplation. During these years of search for a meaningful formation, our province gave us a mandate to live a simple, radical, contemplative, real life. Hence the novitiate moved from a structured setting to a simpler life-style where the novices had to do everything by themselves. Our lives were very close to the people we served and lived with.
Our house, called "Bethel," was a home for the novices, where they really felt at home in the house of God. They learnt and experienced the realities of religious life and lives of the people in the world, especially of the poor. They had to balance prayer-study-work-play. The dynamics were tough for all. But the family atmosphere, responsible freedom, sense of belonging, silence and contemplative dialogue helped us to create a deeper meaning in formative life. It was a wholesome life growing with nature, tilling the land to grow our own vegetables and fruits and caring for the animals. People from the villages felt free to walk into our home and into our lives. We were the power-house of prayer for the Congregation. I sought my God intensely in prayer, Scripture and the Eucharist, which became central to my life here.
I had to move on from this heaven that we had created together when I was called to serve in leadership ministry as vice-provincial of our Patna province. Right now I am a month old in this new life and am responsible for the Jharkhand region. I am discovering a new face of Jesus amidst the lives of the tribals. I am happy here striving to serve in whatever capacity to meet the needs and challenges of the mission here.
What fuels my energy is that I find my God (Jesus) very real, attractive, human and wanting. He is that awesome mystery inviting me to a deeper search. I feel impelled by the love of Christ to work for the betterment of the world. I strongly believe Saint Teresa of Avila's words: "ALL THINGS ARE PASSING AWAY. GOD NEVER CHANGES. WHOEVER HAS GOD, LACKS NOTHING. GOD ALONE SUFFICES." I believe in daily miracles of God in my life which add beauty and fascination to this life in God. I wouldn't want to exchange it for anything. So, my search gets better—and deeper. It never ends.
---
Sr Amelia Moras SCN is vice-provincial of the Patna province of the Sisters of Charity of Nazareth. Earlier, she worked as a pathologist in a hospital and as novice mistress.
To subscribe to the magazine     Contact Us