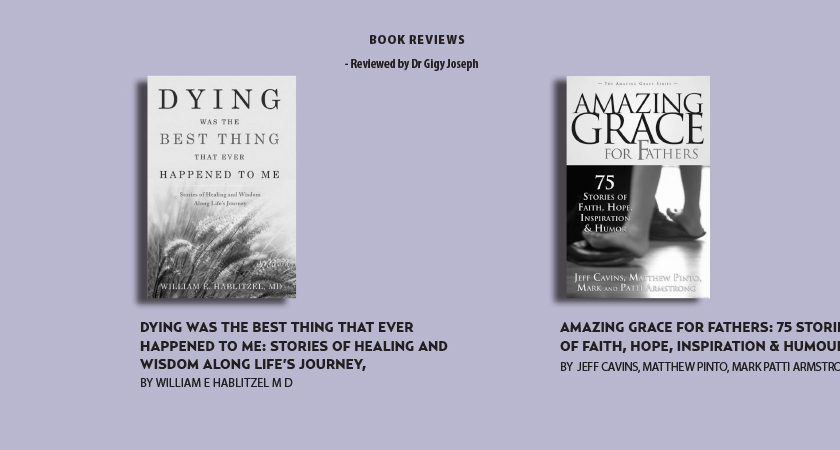 Dying was the Best Thing that Ever Happened to Me: Stories of Healing and Wisdom Along Life's Journey
William E Hablitzel M D (Sunshine Ridge Publishing, 2006)
This award-winning book presents the professional and private life experiences of a gifted physician, medical educator and writer.  The leading piece is about a highly successful American businessman and public benefactor who enjoyed power and prestige till the day when he landed in the ICU. Assumed to be clinically dead; Alexander Kipton had a miraculous survival and learnt a precious lesson—to live in the present. The near-death experience became a passage for the man to live life more meaningfully. He lost his smug self-assurance and confessed that his "death was liberating."
 At the beginning of his career as doctor, Hablitzel met Harold, a war veteran and farmer who faced death calmly. Harold refused machine support to sustain his life. At the point of his death he told his doctor, "I did not start to live until I started to die." He had believed that he did not need to tell his family in words that he loved them. Now, facing death, he told his only son that he loved him. Dr Hablitzel considers Harold as his teacher.
One key piece of wisdom that the author shares is what he calls "the wisdom of medicine" as distinct from the academic "science of medicine." He found he had much to learn from his students. Doctors of modern medicine in general scoff at miracle healings. Young physicians even feel threatened by healing methods outside their discipline. An interesting confrontation happened between a self-assured physician on the teaching faculty and a resident over a terminal case of cancer. The patient wanted to pray over her proposed chemotherapy before beginning the sessions. The resident agreed. The doctor would not. The student cites scientific studies that prove that prayer and religion work. Prayer and science are thought of as incompatible "just because our science has been too primitive to allow us to rationally deal with that we cannot see." Medical practice is as much about healing the soul as it is about healing the body.
Amazing Grace for Fathers: 75 stories of Faith Hope, Inspiration & Humour
Jeff Cavins, Matthew Pinto, Mark Patti Armstrong (Ascension Press 2006)
The focus of this collection of inspiring anecdotes from life is on the experience of Fathers from around the world–stories of family tenderness, survival through life's crises, miracles and lots of humorous reflections, including cartoons. The opening story speaks of the miraculous survival of a man trapped in the World Trade Center attack of 9/11. He would have perished with his friends and colleagues and kept asking God the question, "Why me?" Surely had plans for him, as he would find out soon. He and his family grew closer together and became more devoted to serving others. Moreover, when his wife became seriously ill and he had to take over the care of their little children, he understood the real purpose of his survival.  In one of the stories we come to know how the heroic devotion of a widowed father of six children became the inspiration for his daughter to promote the idea of celebrating Father's Day. Then there are tales of a "Father's Strength" too; about how families and spouses survive crises by the power of faith and mutual support. In one story we see how a young father of two returns from a declared brain death by the power of prayer and family support. Canadian author Margo Pfeiff reports the story of Desiree Gill, a four-year-old girl in California who lost her father in an accident. She wants to contact him. On the occasion of his birthday the child is taken to her father's graveside.  She dictates a letter to him which they attach to a balloon with the picture of a mermaid on it and sends it up. Miraculously, four days later a Canadian hunter recovers the balloon near the Mermaid Lake 1400 miles away from California. His wife writes back to the little girl with the gift of the book Little Mermaid. The series of improbable coincidences convinces the little girl of her father's presence and love beyond the grave. When the media picked up the story, Desiree began to receive letters and gifts from people all over the world! The book has many more such stories.
---
Dr Gigy Joseph

To subscribe to the magazine, click Subscribe